New
Fujifilm X-T3 26.1MP Mirrorless Digital Camera with XF 18-55mm Lens Kit (Black)
Brand

Condition:

New

Warranty:

1 Year Warranty

Packaging:

Retail
Fujifilm X-T3 26.1MP Mirrorless Digital Camera with XF 18-55mm Lens Kit (Black) ; Includes: [Fujifilm X-T3 Mirrorless Digital Camera Body (Black)Fujinon XF 18-55mm f/2.8-4 R LM OIS Zoom LensEF-X8 Shoe Mount FlashNP-W126S Li-Ion Battery PackBC-W126S Battery ChargerBody CapShoulder StrapStrap ClipProtective CoverClip Attaching ToolHot Shoe CoverVertical Grip Connector CoverConnector CoverSync Terminal CoverCable ProtectorFujifilm USA Authorized Dealer Warranty]
The First X Series model featuring a new back-illuminated sensor
The FUJIFILM X-T3 features a newly-developed back-illuminated "X-Trans CMOS 4" sensor, the fourth generation to feature in the X Series. Boasting a resolution of 26.1MP, the sensor uses a unique color filter array, synonymous to X-Trans CMOS sensors, to control moiré and false color without the use of an optical low-pass filter. Its back-illuminated structure enhances image quality while maintaining a high S/N ratio. Furthermore, ISO160, previously available only as extended ISO, is now part of the normal ISO range, allowing you to achieve incredibly clean, noise free images.
The brain that utilizes the full potential of the X-Trans CMOS 4 sensor
The FUJIFILM X-T3 uses the X-Processor 4, an evolved version of X Series' image processing engine that boasts advanced processing capabilities. The new processor, combined with a new algorithm, enhances the Film Simulation modes, substantially improving the camera's ability to track moving subjects, boosts AF's speed and accuracy, and allows for a more diverse range of video functions. It maximizes the full potential of X-Trans CMOS 4 sensor to deliver the highest performance in all aspects in the history of X Series.
High Performance
Maximum AF Speed: 0.06 Seconds
Shooting Interval: 0.17 Seconds
Shutter release time lag: 0.045 Seconds

Start-Up time: Appoximately 0.3 Seconds

Maximum continuous shooting Speed: 30 Frames per Second

EVF refresh rate: 100 Frames per Second
Large EVF means you'll never lose sight of your subject
The FUJIFILM X-T3 features a 3.69-million-dot high resolution EVF with a high magnification ratio of 0.75x. The display time lag of just 0.005 seconds and refresh rate of approx.
100fps ensure smooth display and allows you to precisely identify subject movements and focus positions.
Blackout-free high-speed continuous shooting of up to 30 fps with AF/AE tracking
Increased read speed from the sensor and the new high-speed processor have made it possible to have AF/AE-tracking, blackout-free continuous shooting of up to 30 fps** in approx. 16.6M (1.25x crop) mode using the electronic shutter, while maintaining a smooth Live View of 60fps to track your subject. The rolling shutter distortion, a typical issue for electronic shutters, has been halved compared to the previous generation.
Sports finder mode for enhanced shooting
The "Sports finder mode" makes it even easier to capture moving subjects. The new mode marks a cropped area in the viewfinder and shoots at approx. 16.6M (1.25x crop). This is particularly useful for sports and wildlife photography, as you can check the movements of a subject just outside the shooting frame and take advantage of shorter-than-usual blackout time as compared with the mechanical shutter.
Key Features
Fourth Generation, 26.1 megapixel X-Trans CMOS 4 and X-Processor 4
Upgraded AF performance in a range of conditions
4K/60fps 4:2:0 10 bit video recording — a first in mirrorless digital cameras
Easy-to-access top dials, grip design, and central viewfinder
Auto ISO range starting at 160
0.5-inch, color viewfinder with 0.75x magnifications
3-inch, touch screen LCD monitor
Dust- and water-resistant battery grip capable of snapping 1,100 photos in normal mode
Bluetooth compatible
Film Simulation modes for a variety of color tones and gradations
The FUJIFILM X-T3 offers 16 Film Simulation modes so that you can match your true photographic intention in a similar way to how photographers used to choose purpose-specific photographic films. This unique philosophy reflects Fujifilm's heritage and color science know-how, nurtured by over 80 years of film manufacturing.
Cutting-edge monochrome expression for the digital age
The FUJIFILM X-T3 offers the new "monochrome adjustment" function to faithfully reproduce warm and cool tones which were conventionally achieved using specific photographic papers and developers. This function, available in the standard "Monochrome" as well as the "ACROS" mode, provide smooth halftones, deep blacks, and beautiful textures to broaden the scope of monochrome expression.

Color Chrome effect for high saturation subjects
This effect produces deeper colors and gradation in subjects with highly saturated colors present in vivid and shaded flowers, which are notoriously difficult to photograph.
Fast and accurate phase detection AF across the frame
The FUJIFILM X-T3's sensor has increased the phase detection AF area to the entire frame (approx. 100%) with 2.16M phase detection pixels. The low-light AF sensitivity has also been extended from -1EV to -3EV, enabling high-speed AF in even lower light conditions, like a scene lit only with candlelight.
Enhanced AF processing for moving subject
The X-Processor 4's high processing speed and improved phase detection algorithm means the camera refocuses (AF) and meters (AE) about 1.5 times more frequently than current models to improve autofocus even when shooting sports involving fast and erratic movements across the frame.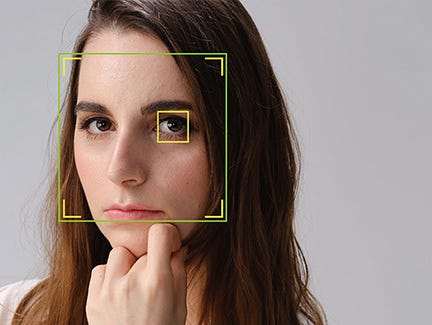 Substantially improved performance with face- and eye-detection AF
The performance of face-detection AF on a moving person has been doubled. The eye-detection AF works in AF-C mode, maintaining accurate focus-tracking with portraits. It focuses precisely when shooting people from the front or side.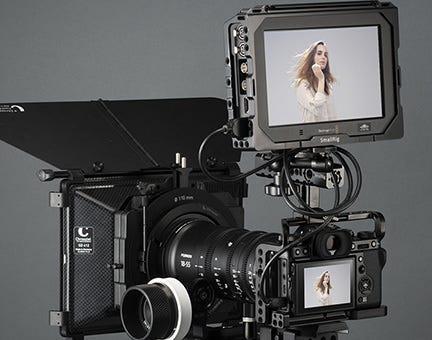 Simultaneous output of 4K HDMI and internal SD card recording
The FUJIFILM X-T3 supports 4K/60P 4:2:2 10bit HDMI output and 4K/60P 4:2:0 10bit internal SD card recording simultaneously. This allows you to take backup video or conduct 4K/60P internal SD card recording while monitoring 4K/60P footage. Also, the sensor's read speed is about 1.5 times faster than current models, which enables fast 17msec reading of 4K/60P video. The rolling shutter distortion has been reduced for even smoother filming of fast-moving subjects.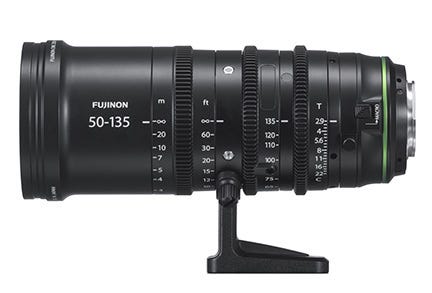 MKX cinema lenses for dramatically improving the quality of video footage
Award-winning FUJINON cinema lenses are now also available with the X Mount, offering edge-to-edge sharpness and excellent portability. Cine lenses suppress focus shift while zooming and reduce lens breathing during focusing, something photographic lenses do not. Furthermore, the MKX lenses feature three manual rings for precise adjustments of focus, zoom and aperture, allowing for comfortable functionality and operation.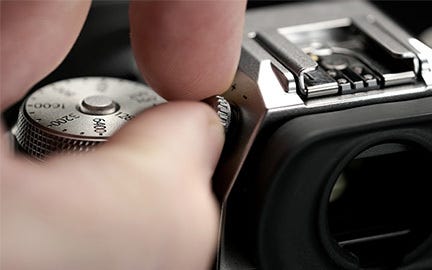 Lockable EVF's diopter adjustment dial
EVF's diopter adjustment is lockable achieved by pulling out and rotating a diopter knob, so as to prevent unintended adjustments while carrying the camera.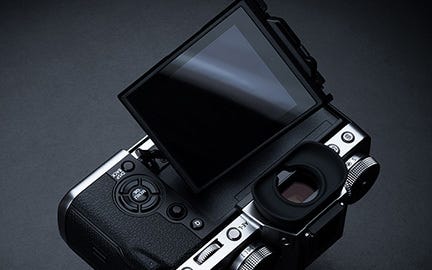 Touchscreen panel tilts in 3 directions
The FUJIFILM X-T3 uses a touchscreen panel with higher contrast, wider viewing angle and better operability than those in previous models to enable intuitive operation.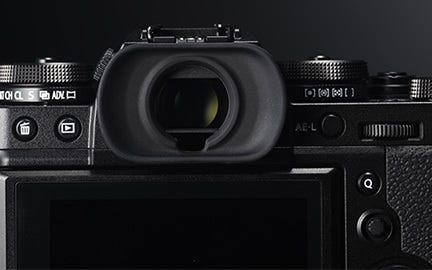 Improved dials and buttons
The FUJIFILM X-T3 inherits FUJIFILM X-H1's features such as large top-panel dials / rear-panel buttons and comfortable clicking touch of front and rear command dials.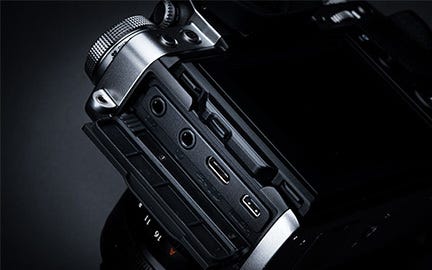 Terminal with high expandability
A headphone jack is provided on the camera body so that all accessories required for video recording, such as microphone and HDMI devices can be centrally connected to the body for added mobility in videography.
Fujifilm X-T3 Specifications
Imaging

Lens Mount
Fujifilm X Mount
Camera Format
APS-C (1.5x Crop Factor)
Pixels
26.1 Megapixel
Max Resolution
6240 x 4160
Aspect Ratio
1:1, 3:2, 16:9
Sensor Type / Size
CMOS, 23.5 x 15.6 mm
File Formats

Still Images:

JPEG, RAW


Movies:

MOV


Audio:

Linear PCM
Bit Depth
14-Bit
Dust Reduction System
Yes
Memory Card Type
SD
SDHC
SDXC

AV Recording

Video Recording
Yes, NTSC/PAL
Video Format
4096 x 2160p at 23.98/24/25/29.97/50/59.94 fps400, 200, 100 Mb/s
3840 x 2160p at 23.98/24/25/29.97/50/59.94 fps400, 200, 100 Mb/s
2048 x 1080p at 23.98/24/25/29.97/50/59.94 fps200, 100, 50 Mb/s
1920 x 1080p at 23.98/24/25/29.97/50/59.94/100/120 fps200, 100, 50 Mb/s
Aspect Ratio
16:9
Video Clip Length
Up to 29 Min 59 Sec
Audio Recording
Built-In Mic: With Video (Stereo)
Optional External Mic: With Video (Stereo)

Focus Control

Focus Type
Auto & Manual Focus



Condition:

New



Warranty:

1 Year Warranty



Features:

26.1MP APS-C X-Trans BSI CMOS 4 Sensor
X-Processor 4 with Quad CPU
UHD 4K60 Video; F-Log Gamma & 10-Bit Out
2.16m-Point Phase-Detection Autofocus
3.0 1.04m-Dot Tilting LCD Touchscreen
Bluetooth and Wi-Fi



Packaging:

Retail



What you get:

Fujifilm X-T3 Mirrorless Digital Camera Body (Black)Fujinon XF 18-55mm f/2.8-4 R LM OIS Zoom LensEF-X8 Shoe Mount FlashNP-W126S Li-Ion Battery PackBC-W126S Battery ChargerBody CapShoulder StrapStrap ClipProtective CoverClip Attaching ToolHot Shoe CoverVertical Grip Connector CoverConnector CoverSync Terminal CoverCable ProtectorFujifilm USA Authorized Dealer Warranty

This product hasn't received any reviews yet. Be the first to review this product!

Fujifilm X-T3 26.1MP Mirrorless Digital Camera with XF 18-55mm Lens Kit (Black)